About Applications Plus
The company was formed in 1984 to provide computer services to local businesses. Our primary focus is the design, programming, and support of custom software solutions.
Jim Brown, Owner
Our owner, Jim Brown grew up in the southern New Jersey community of Franklin Township. After high school he studied Electronic Technology. During the late 70's he worked for several electronic manufacturing companies in their engineering departments. One of these companies designed and programmed custom computer systems. This is where he started down his current career path as a software engineer.
Since 1980, Jim has developed many software systems. Some of the highlights are:
A simulator for the Tomahawk Cruise missile which was used at a Naval training base in Virginia.
JOBTIME, a job costing and billing system for professional engineers. Developed in 1988, it was updated for year 2000 and was in use till 2006.
Pony Express, a database management system for the Thoroughbred Business Basic language with file, menu, and reporting features.
APlus Development Shell for Microsoft Access. Provides a starting point to develop Access databases with user login, password protection, menu system, and system functions.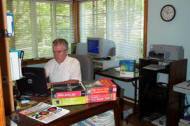 Jim Brown of Applications Plus at work.